Apple Seeds 'Snow Leopard Graphics Update' to Developers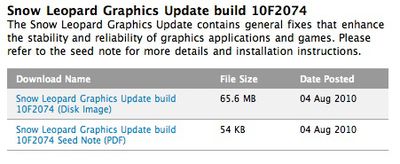 Apple has reportedly seeded a new software update called "Snow Leopard Graphics Update" to developers. While the exact focus of the update in testing is unclear, it appears from the areas in which developers are being asked to focus their testing that it addresses several aspects of graphics performance including VRAM utilization and hot-plugging and wake-from-sleep issues. The general release notes claim only that the update addresses reliability of "graphics applications and games".
Many users have been anxiously awaiting some sort of graphics improvements from Apple considering issues cited with high-performance games running under Mac OS X 10.6.4. It is unclear, however, whether any such improvements are included in this graphics update or in Mac OS X 10.6.5, which Apple is reportedly preparing to begin seeding to developers. It also unknown when these two software updates will be made available to the general public.