Ballmer: Microsoft-Powered Tablets Are 'Job One Urgency'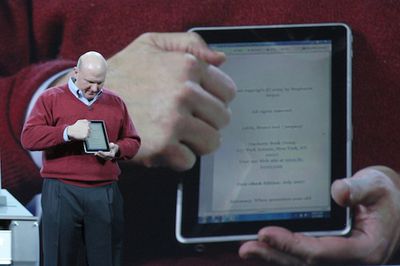 Steve Ballmer demoing Windows-based HP slate at CES in January 2010
CNET reports
on comments from Microsoft CEO Steve Ballmer today at the company's conference for financial analysts revealing that Apple's longtime rival is continuing to push full steam ahead on Windows-powered tablets, acknowledging Apple's early success with the iPad.
"They'll be shipping as soon as they are ready," Ballmer said, offering few details on the products, which he said will come from partners, not Microsoft itself. "It is job one urgency. No one is sleeping at the switch."
Speaking to financial analysts, Ballmer said the goal is "not just to deliver products, but to deliver products that people want to buy."
As for Apple and the iPad, Ballmer said, "they've sold certainly more than I'd like them to have sold."
Ballmer reports that the tablet hardware is set to be based on Intel processors rather than ARM chips, while running a flavor of the company's Windows 7 operating system rather than Windows Phone 7. The first devices are reportedly set to appear later this year.
At CES in January of this year, Ballmer briefly demoed a slate-style device from HP running Windows, but that device was put on hold with HP's acquisition of Palm. While HP is still sorting out its tablet strategy, it is beginning to appear that it may pursue Windows-based systems for enterprise and tablets running a modified Palm webOS for consumers.