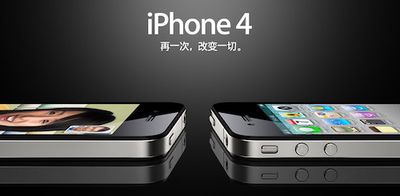 SinoCast Daily Business Beat reports
that China Unicom executive Li Gang flew to the United States yesterday to meet with Apple executives and finalize a deal to distribute the iPhone 4 and iPad in China. Discussions regarding the deal, reportedly scheduled to be announced on August 1 if all goes well, are said to be centered on pricing and terms for extending the original deal signed between the two companies last October.
China Unicom is rumored to have given an order to clear its stock of iPhones in preparation for the debut of the new iPhone 4 in the Chinese market. China Unicom had signed a contract with Apple in October 2009 to sell two million iPhones within a year. China Unicom has sold about 700,000 iPhones by the end of June.
China Unicom currently has inventory of 150,000 iPhones and that the iPhone 4 may be launched in China between mid August and the beginning of September.
China Unicom remains the only Chinese carrier approved to carry the iPhone and has yet to see the iPhone 4 despite two rounds of launches. A burgeoning gray market for Apple's latest iOS devices is getting a boost, however, as the iPad debuted in Hong Kong last week and the iPhone 4 will follow on Friday, providing a significant entry point into mainland China for those devices.