Apple Facing Possible Fine Over Taiwanese Mac Mini Pricing Errors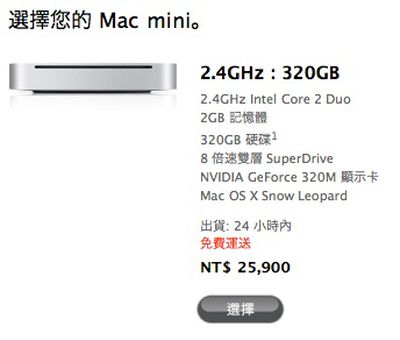 Proper pricing for base Mac mini model in Taiwanese Apple Store
AFP reports
that Apple may be facing a minor fine in Taiwan after the company briefly offered erroneous pricing for several configurations of its Mac mini in that country late last week. The threat of fine comes after Apple quietly raised prices to their proper levels for the 200,000 orders placed at the incorrect prices without acknowledging how it plans to address the pricing mistake.
Apple would not say if it would deliver the products on the erroneous prices. And after an initial investigation, the city government's Law and Regulation Commission issued an ultimatum to the US computer company.
"The city government has tried to reach Apple since Friday afternoon but has not yet received any response from it over the more than 30 consumer complaints," Yeh Ching-yuan, chief of the commission, said in a statement.
"Apple has to respond to our order before the end of Tuesday or may face a fine of up to 300,000 Taiwan dollars (9,400 US) according to the consumers' protection law," he warned.
One of the mis-priced items was the company's new Mac mini with an upgrade to 8 GB of RAM, which was briefly priced at 19,999 Taiwan dollars, less than half that of the proper price and cheaper than the base model carrying 2 GB of RAM. A similar error saw the Mac mini server version with 8 GB of RAM priced lower than the same model with only 4 GB of RAM.