iMac Joins Mac Pro in Running Low for In-Store Reservations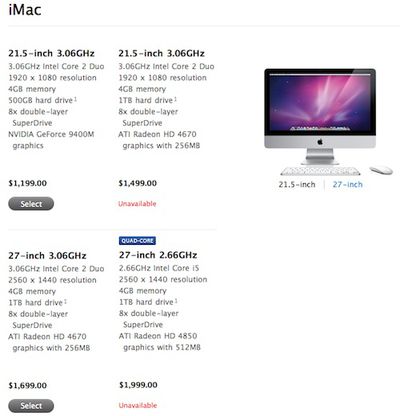 iMac reservations at Crabtree Valley Mall Apple Store, Raleigh, NC
As
noted
by
AppleInsider
, various models of Apple's iMac line are beginning to become "Unavailable" through Apple's in-store
Reserve and Pick Up
system, joining the company's
Mac Pro line
that saw similar shortages appear late last week.
The iMac shortages are not quite as pronounced as they are for the Mac Pro, however, with a quick check of a number of stores showing unavailability seemingly limited to the high-end 21.5-inch and 27-inch models. A significant number of stores also continue to show availability of all four iMac models at this time.
The news comes, however, after a report last week pointed to iMac shipments to third-party distributors beginning to run low, with the new observation now lending credence to the idea that iMac supplies are truly becoming constrained.
Like the Mac Pro, the iMac continues to show shipping estimates of "within 24 hours" across the board in Apple's online retail store, suggesting that the company is prioritizing that distribution channel for its remaining machines while letting other channels run dry in advance of new models.
The iMac was last updated in October with the introduction of new 16:9 widescreen 21.5-inch and 27-inch designs.