AdMob Chief Reports Apple Has Not Yet Enforced New Analytics Policies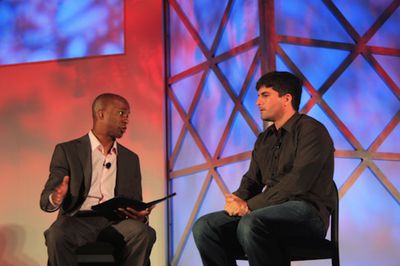 AdMob CEO Omar Hamoui (right) speaks with CNBC's Jon Fortt at MobileBeat 2010 (Credit: CNET)
With the
official introduction
of iOS 4 at last month's Worldwide Developers Conference, Apple
modified its developer terms
to again allow limited collection of analytics data for advertising purposes, but apparently left open the possibility of shutting out high-profile competitors such as Google's AdMob by requiring that such analytics companies be "independent" and not involved in mobile operating system development as Google is.
AdMob CEO Omar Hamoui acknowledged that the change threatened AdMob's existence on the iOS platform and thus significant potential revenue streams for developers, even as Apple prepared to roll out its own iAd mobile advertising platform. At the time, Hamoui noted that AdMob would be speaking with Apple in an attempt to resolve its concerns over the new policy.
CNET today reports on new comments from Hamoui revealing that Apple has yet to enforce the new terms that would shut AdMob out of the iOS platform.
"They haven't been enforcing (the new regulations) yet. We're very appreciative of that," he said at the MobileBeat 2010 conference here.
The news is not unexpected, of course, as developers have reported that they have been able to continue using AdMob's services in their applications, but Hamoui's comments mark the first acknowledgement by Apple, Google or AdMob that AdMob's service is continuing uninterrupted for the time being. But Hamoui did not address the state of talks between Apple and AdMob and whether a more permanent resolution to the issue is in the works or if the status quo of simple non-enforcement on the part of Apple might be the policy going forward.
Hamoui also noted that he is pleased by Apple's iAd effort as it works to bring more publicity to the concept of mobile advertising.
"The really rich pretty ads they're doing are making advertisers and agencies think about what mobile means," Hamoui said. "Anybody getting advertisers interested in mobile is a good thing. It's not at all a zero-sum game."
Google and AdMob are of course interested in what Apple is doing as a competitor, and Google itself has suggested that it too is looking at "interactive video ads" as the future of mobile advertising.