YouTube Revamps Site for iPhone and Other Mobile Devices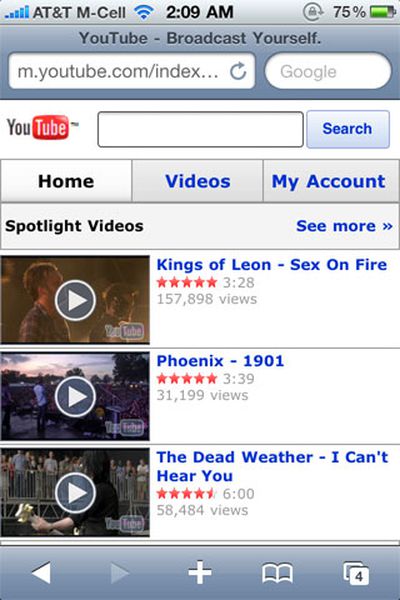 YouTube has
announced
that it has revamped its mobile YouTube site to support a complete YouTube browsing experience on modern mobile phones, including the iPhone. Of the changes to
http://m.youtube.com
, YouTube notes:
- It's really fast.
- The user interface incorporates larger, more touch-friendly elements, making it easier to access videos on the go.
- It incorporates the features and functionality youve come to expect from the .com site, like search query suggestions, the options to create playlists, the ability to designate favorite, like or unlike videos directly from your device.
- As we make improvements to Youtube.com, youll see them quickly follow on our mobile site, unlike native apps which are not updated as frequently.
In many ways the new mobile site now makes the native iPhone YouTube app obsolete. Like the native app, the mobile YouTube serves iPhone-friendly h.264 video that can be played right in mobile Safari. Every since 2007, YouTube has been encoding their videos in both Flash format as well as h.264 (for AppleTV and iPhone).