Screenshots of Pages for iPhone and iPod Touch? [Updated]
Yesterday, we pointed to mention of "iWork for iPhone" in several of Apple's international online stores, marking the second time that Apple's own site has suggested that a scaled-down version of its iWork for iPad productivity suite might be making its way to the iPhone and iPod touch.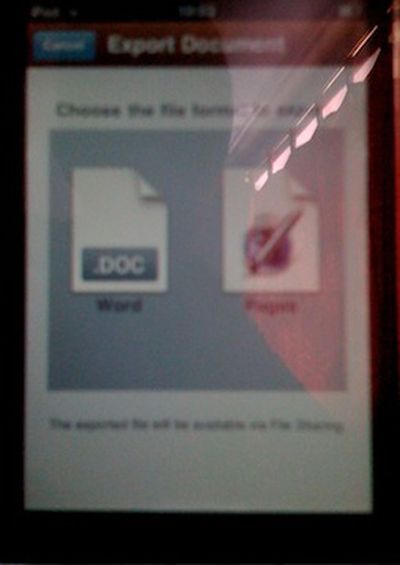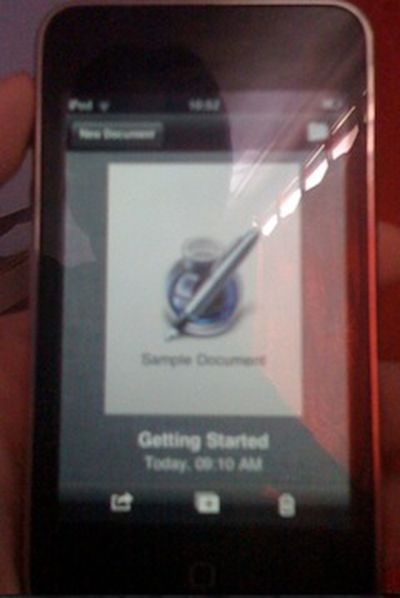 In a
pair
of
posts
today,
9 to 5 Mac
shares a number of purported shots of Pages running on an iPod touch. While Pages has been
unofficially ported
from iPad to iPhone, the new screenshots, while blurry, exhibit none of the toolbar formatting issues seen on the tweaked iPad version and appear to offer a customized layout for the iPhone and iPod touch's smaller screen size.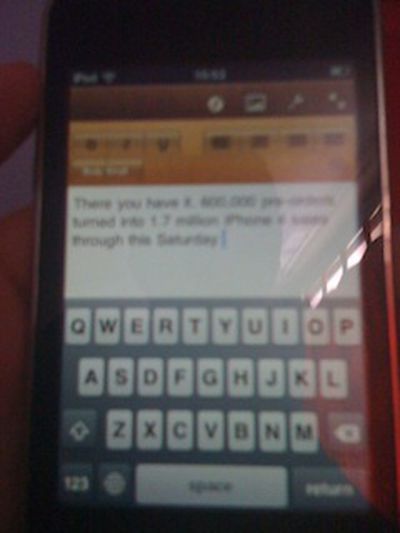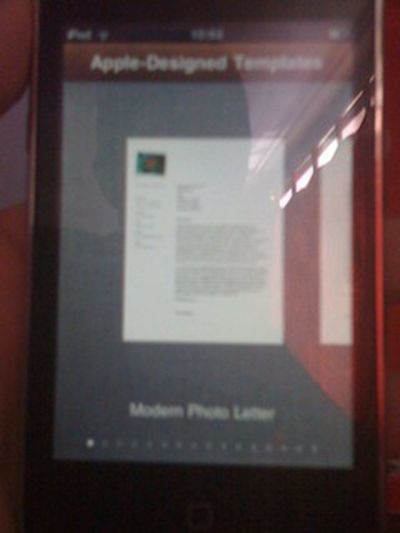 As the first report notes, the iPod touch on which Pages appears to be running currently carries only a 320 x 480 display, suggesting that an iWork for iPhone release may not be limited to the 640 x 960 "Retina" display of iPhone 4.
Meanwhile, WMPoweruser.com points to a new Microsoft job posting looking for a software engineer to work on bringing Office Mobile to Nokia smartphones, with "other leading Smartphone platforms" also being targeted, leading to speculation of Office for iOS devices. A Microsoft project manager noted in early February soon after the iPad's introduction that the company was "looking at" the possibility of an iPad version of Office, but a company executive tempered expectations in mid-April by claiming that the company had "no current plans" to bring Office to the Apple's tablet device. The company has not specifically addressed the possibility of Office for the even smaller iPhone and iPod touch screen size.
Update: 9 to 5 Mac is now posting actual screenshots of Pages for iPhone and iPod touch rather than photos of the screens. According to the new report, Pages and Numbers will be available as universal binaries to support iPad, iPhone, and iPod touch. There is no word on whether Keynote will also be making the transition to the smaller screen.