iPhone 4 Boosts Upload Speeds Significantly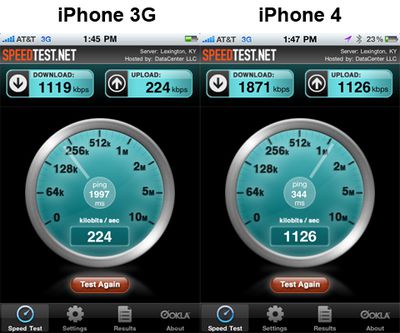 Several readers have reported that the iPhone 4 does make good on its promise of increased upload speeds over 3G.
ZDNet posted
some comparisons between the iPhone 3G and iPhone 4 using
Speedtest
.
I started noticing this on Thursday after I picked up the iPhone 4. The first bandwidth speed tests that I ran showed that I was getting much higher bandwidth numbers that I was used to seeing on AT&T. I was getting over 2 Mbps on downloads and over 700K on uploads.
The ZDNet author was unable to replicate the signal loss issue at his location (Louisville, Kentucky). How much you might individually benefit from the improved HSUPA depends on the status of your AT&T wireless network in your area.