Steve Jobs on Future Wireless iPhone Syncing, Replacement of 'Hold' Button With FaceTime
With the release of iPhone 4, Apple CEO Steve Jobs has fired up his email account again and is responding to a number of customer emails. First it was his description of the signal strength concerns as a non issue. And in another pair of publicized responses, Jobs has briefly addressed both future wireless syncing of iOS devices and the replacement of the iPhone's on-screen "hold" button available during calls with a button for activating the new FaceTime video calling feature.
Mashable first reported on the Wi-Fi phone syncing topic earlier this week amidst the excitement of the iPhone 4 launch, noting that Jobs replied "Yep, someday," to a question from a customer about possible future wireless syncing of his iPhone to his Mac. Jobs offered no timeframe for a launch of the feature.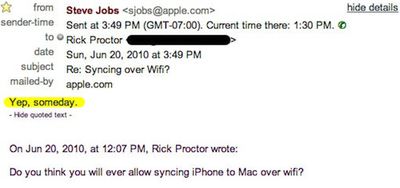 Earlier this year, one developer created his own
Wi-Fi syncing solution
and hoped that Apple would distribute it through the App Store, but the company
rejected
the application last month. It is now
available for jailbroken devices
connecting to both Mac and Windows computers at a price of $9.99.
The second issue comes to our attention via TechCrunch, which points to a LiveJournal posting from a user who asked about the removal of the "hold" button from the iPhone's on-screen calling screen to make room for a new button for initiating FaceTime video calls. Jobs' response: "Hold doesnt do anything more than Mute."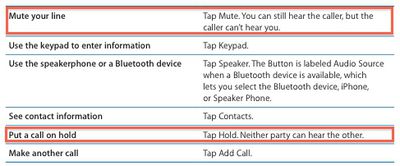 Table from Page 50 of iPhone OS 3.1 User Guide (PDF link)
Interestingly, Jobs was neither entirely correct nor thorough in his answer. As noted in Apple's own user guide for devices running iPhone OS 3.1, the "mute" functionality silences the user's own voice in the conversation while continuing to allow them to hear the party on the other end of the line. The "hold" functionality silences both ends of the conversation.
Fortunately for users looking to make use of the hold functionality that seemed to have disappeared, a commenter on the TechCrunch piece notes that simply holding down the "mute" button for a few seconds will activate the "hold" functionality.