AT&T: Rebate or Upgrade for Recent iPhone 3GS Purchasers, 7 AM Launch Day Opening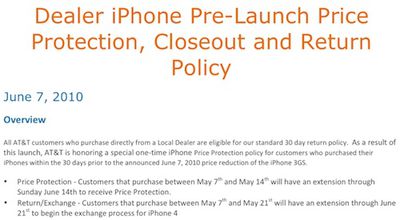 ModMyi
has a pair of reports today revealing some purported AT&T documents offering information on the carrier's plans with regard to iPhone 4 sales.
According to the first report, AT&T will be offering bill credit rebates for users who purchased an iPhone 3GS between May 7th and June 7th, with customers set to receive $50 (16 GB) or $100 (32 GB) if they file a request with the company. The offer is good for 30 days from the date of purchase, with those in the early portion of the purchase window (May 7th through May 14th) having until June 14th to file their requests.
Alternatively, AT&T will offer those iPhone 3GS customers who purchases handsets between May 7th and June 7th the option to upgrade to iPhone 4, only paying applicable price differences. Customers who purchased a "closeout" iPhone 3GS after June 7th are not eligible for these offers.
In its second report, ModMyi's tipster shares a flyer showing that AT&T is planning to open its retail stores at 7:00 AM on the launch day of June 24th. According to the flyer, new customers will only be permitted to activate one new line on iPhone 4, while existing customers will be limited to one iPhone 4 per active mobile number.