Apple Accepting iOS 4 Apps for Approval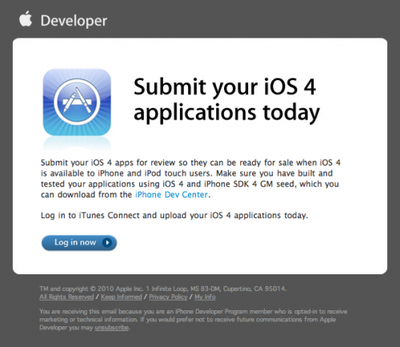 Apple has
started accepting
iOS 4 applications ahead of the June 21st
release
of iOS 4. Formerly called iPhone OS, iOS 4 is the rebranding of the operating system that runs on the iPhone, iPod Touch and iPad. Version 4 introduces many new features for developers and users that may require modifications to existing apps for full compatibility. Some of the features include:
- Multitasking
- Folders
- Improved Mail App
- Enhanced Enterprise support
- iAds
- iBooks
Apple claims there are over 1,500 new Application Programming Interfaces (APIs) available for developers. iOS 4 will be available to iPhone and iPod Touch owners for free on June 21st. iOS will not run on the original iPhone or 1st generation iPod Touch and will only run with limited features (no multitasking) on the iPhone 3G and 2nd generation iPod Touch.