iPhone OS 4 Becomes iOS 4, Available June 21 for Free
In addition to announcing the new iPhone 4 at today's WWDC keynote event, Steve Jobs reviewed the upcoming iPhone OS, now known as iOS 4. Previously announced at a special event in April, the OS update will include multi-tasking, a unified inbox, folders, and other features. Newly-announced today is the inclusion of Bing as an additional search engine option as well as the iBooks app, which is currently only available for the iPad.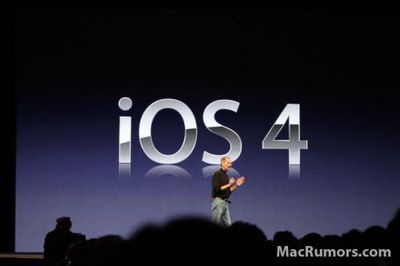 iOS 4 has been declared Golden Master Candidate and will be publicly released on June 21st. It will be a free upgrade for existing iPhone and iPod touch owners, though depending on the age of your device not all features many be available. This is the first time that a major OS update has been free for iPod touch owners.