Adobe Releases Flash Player 10.1, But Hardware Acceleration on OS X Not Supported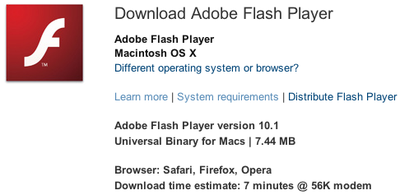 Adobe today released
Flash Player 10.1
, the public version of its browser plug-in that has been available for testing in prerelease form since
mid-November
. The release, however, does not yet include hardware-accelerated decoding on Mac OS X.
Apple altered its policies in late March to allow third parties such as Adobe to tap into the hardware-accelerated decoding of H.264 video on machines with compatible video cards. Adobe did just that a month later, introducing its "Gala" prerelease version of Flash Player 10.1 for Macs running Mac OS X 10.6.3 and using NVIDIA GeForce 9400M, GeForce 320M or GeForce GT 330M video cards. The Gala functionality, highly anticipated by many users for its ability to free system resources and reduce loads, will be included in a future update to Flash Player 10.1.
Will Gala be generally available with the general availability of Flash Player 10.1 in the first half of this year?
It is expected that the Gala functionality - H.264 hardware decoding on Mac OS X 10.6.3 - will be available in an update following the release of Flash Player 10.1.
A second preview version of Gala remains available through Adobe Labs for those looking to test out the hardware acceleration.
Flash Player 10.1 is intended to integrate the Flash experience across a broad variety of platforms, including smartphones, with support for multi-touch and accelerometer controls. The so-called "Open Screen Project" is consortium of nearly 50 companies looking to bring a consistent Flash experience across all platforms, but Apple is notably absent from the group.