Inventor of webOS Banner Notification System Returns to Apple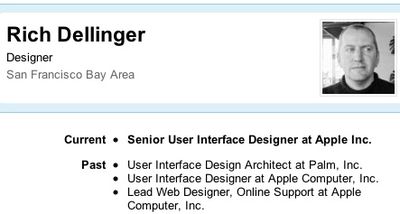 PreCentral.net notes
that
Rich Dellinger
, a former user interface designer at Apple who left in 2006 to join Palm and subsequently developed the banner notification system used in webOS, has returned to Apple. In addition to his contributions to notifications, Dellinger's other work at Palm included:
Acted as visual designer, interaction designer, and engineer on Palm webOS.
Co-developed the Application Framework used by webOS. Created the CSS structure and defined HTML layout and structure conventions in Mojo Application Framework, and for core Palm applications.
Co-invented software and hardware interaction models for a new generation of Linux-based, Palm-branded mobile devices.
The webOS banner notification system invented by Dellinger has received considerable positive publicity for its sleek design and unobtrusive nature compared to the pop-up notifications used on Apple's iPhone operating system.

webOS notifications
Dellinger is the latest in a string of high-profile departures from Palm in wake of
HP's acquisition
of the company. He has taken on a job title of "Senior User Interface Designer" at Apple, although it is unclear exactly what projects he will be working on. He previously worked at Apple from 1999 through 2006 in a variety of capacities, initially focusing on technical support engineering and a revamp of the company's online support site before moving to user interface design for Mac OS X, iPhone and iPod.