'Pulse News Reader' for iPad Pulled From App Store After New York Times Complaint [Updated x2]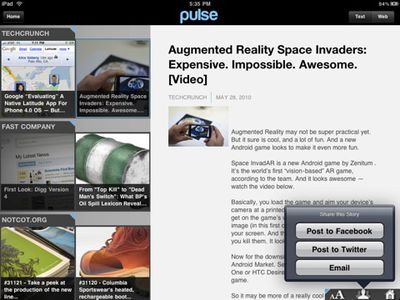 All Things Digital reports
that just hours after being mentioned as a prominent example of the promise of App Store applications for the iPad early in Apple CEO Steve Jobs' keynote address at the company's Worldwide Developers Conference,
Pulse News Reader
disappeared from the App Store. According to the report, the removal was the result of a copyright complaint filed by
The New York Times
over the application's use of RSS feeds, which are used in a "visual mosaic" format to display news content to users.
But by the afternoon, that flush of entrepreneurial success had turned sour, after Apple (AAPL) informed the two that Pulse was being pulled from the App Store after it received a written notice from the New York Times Company (NYT) declaring that "The New York Times Company believes your application named 'Pulse News Reader' infringes The New York Times Company's rights."
The report also notes with some amusement that The New York Times just last week published a feature profile on the application and its developers.
The application's developers, a pair of Stanford University graduate students, are planning to contact Apple today to determine exactly what is going on and whether they can simply remove New York Times content from the application.
Richard Samson, lawyer for The New York Times, argues in his complaint to Apple that the application's paid nature results in unlicensed usage of the newspaper's content, a violation of the Terms of Use. In addition, Samson complains about the application "framing" Times content in violation of the Terms of Use and objects to the featuring of Times content, which comes preloaded in the application, in App Store screenshots.
Update: Pulse News Reader is back in the App Store, and as All Things Digital notes, the restored app appears to be the same as the previous one despite the developers having already submitted an updated application without New York Times content pre-loaded.
The report also posts comments from The New York Times confirming its specific objections to the application. The newspaper and Apple have yet to comment, however, on the application's reappearance in the App Store.
Update 2: The New York Times believes that the application was restored in error. No comment from Apple or the developers yet.
"We want to be clear that we are willing to work with Pulse, but only under our terms of use," said Robert Christie, a spokesman for the Times Company.
On Tuesday afternoon the app reappeared in the App Store. When asked about the reversal, Mr. Christie said: "We think it has been reinstated by error, and we have asked Apple for an explanation."