iPhone 4 Hands-On Reviews and First Impressions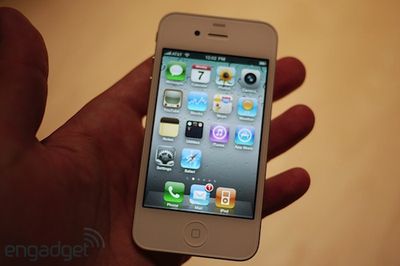 With the WWDC 2010 keynote address now over, users are beginning to get their hands on Apple's new
iPhone 4
, and hands-on reviews and first impressions are beginning to trickle in.
Engadget posts a number of photos of the new device, as well as a video showing the new FaceTime video calling feature in action.
Some takeaways about the device:
- As we said, it's shockingly thin.
- The screen is truly outrageous -- you basically cannot see pixels on it. We're not being hyperbolic when we say it's easily the best looking mobile phone screen we've ever laid eyes on.
- The build quality is really solid. The home button feels much snappier, and on the whole it just feel like a tightly-packed device, but it's not heavy.
- The side buttons are really nice and clicky.
- iOS 4 is very familiar -- there's not a lot added to fit and finish.
Ars Technica also has a number of photos and notes the new iPhone "feels good in the hand" and is very speedy, on par with the iPad as a first impression.

The iPhone's 960 x 640
Retina display
has predictably been garnering quite a bit of attention, with
Daring Fireball
's John Gruber
noting
that it "looks insane in person" and
gdgt
's Ryan Block
"in complete awe"
over the "unbelievable" screen.
Recombu has also posted another nice photo gallery showing off the Apple's latest and greatest iPhone.