Apple's iAds Going Live on July 1
First announced in April at a special event, Steve Jobs provided a demonstration and additional details about Apple's new in-app advertising service, iAds, at today's WWDC keynote.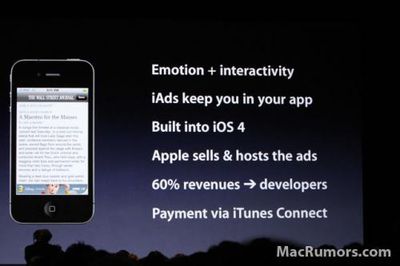 Noting a number of large companies already signed up for iAds, including Nissan, Chanel, GE, Target, Best Buy, and more, Jobs stated that advertisers have already committed to $60 million in iAds purchases for the second half of 2010.
iAds is built right into iOS 4, formerly known as iPhone OS 4. iAds will keep users who tap on ads within the app instead of taking them to a web page outside of the app.
iAds will be enabled July 1st and will offer a shared revenue model like the App Store, giving 60% of revenue to developers who use the service, with Apple keeping the remaining 40%.