iPad Users Interested in Productivity Apps, iPhone and iPod Users in Games
According to data obtained from AppShopper, iPad users are disproportionately interested in productivity apps, while iPhone and iPod Touch users seem to love buying games.
The following graph shows the relative percentages of each app category with respect to its distribution in the Top 100 Paid Apps and All Apps in the App Store:
Despite the fact that games only represent 15% of the over 200,000 iPhone/iPod touch apps, games currently make up 54% of the Top 100 Paid apps in the App Store. The findings are likely reflective of the large iPod Touch population that make up nearly half of the 85 million iPhone OS devices out there. Apple has pushed the iPod Touch as gaming device in their advertising.
In fact, Apple has been so successful that Nintendo sees Apple as their biggest threat in the future.
Meanwhile, amongst iPad-specific apps, games make up a more representative sampling of the Top 100: 29% for Top 100 vs 25% of all iPad apps. Instead, productivity apps for the iPad are proving to be very popular representing 19% of the Top 100 while only making up 5% of all iPad apps: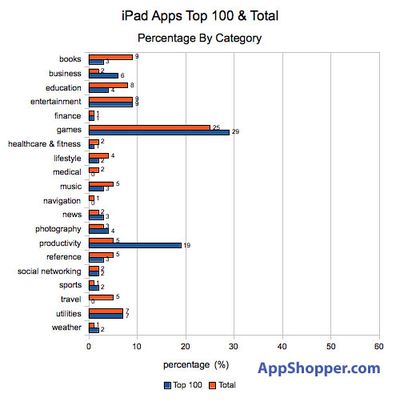 The findings aren't particularly surprising given the
older demographics
for iPad owners. It also reflects the added functionality that a large-format device offers over a handheld device.