Yahoo Examines iPad User Demographics and Trends, Finds 10% International Usage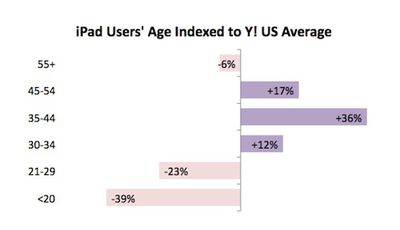 Yahoo today published the
results
of some number crunching it performed on iPad users accessing its Web content. According to the data, males currently outnumber females 2:1 among iPad users on Yahoo's network, significantly about the nearly 50-50 split seen for overall usage. The survey also shows relative overrepresentation among the 30-54 age range (peaking in the 35-44 age group), as well as data revealing that early iPad users tend to be more affluent than typical Yahoo users.
As expected within the classic early-adopter profile, we identified a male skew in the 35-44 age group among these early users. In fact, among all users, men outnumber women 2:1. Given the economy, people with higher earning power were probably the first to buy the iPad. The first Yahoo! iPad users were 94% more likely to be affluent consumers with solid wealth and strong incomes than typical U.S. Yahoo! users.
In analyzing what iPad users are looking at on Yahoo's network, the company also found higher-than-average usage for Flickr, with Finance, News, and Sports also seeing heavy interest.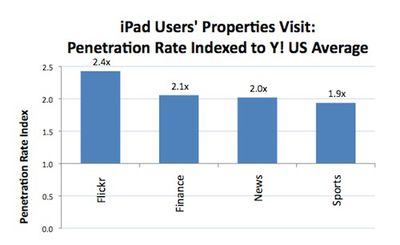 Possibly the most interesting piece of data from Yahoo's analysis is the observation that approximately of 10% of users are coming from outside the United States. Given that the iPad has only been made available in the U.S. and that Apple has taken steps such as limiting per-person orders and
cutting off
third-party services facilitating international orders, it appears that a relatively significant percentage of iPads are still making it out of the United States.
During the measurement period, the iPad has only been available for purchase in the U.S. market; however, we observe approximately 10% of IP traffic coming from Europe and Asia Pacific. Specifically, the U.K., France, and Germany are the top countries in Europe, and Taiwan and Hong Kong make up the most traffic in Asia Pacific.
Finally, Yahoo noted that nearly half of Yahoo iPad users own an iPhone and had visited Yahoo sites using the iPhone.