Apple to Begin International Roll Out of iBooks and iBookstore Alongside iPad Launch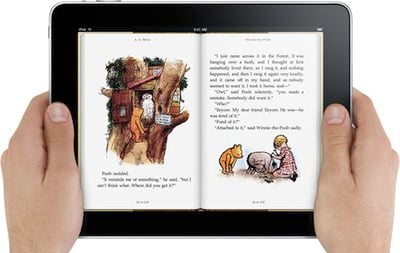 Earlier today, Apple
announced
the launch of the iPad in nine new countries later this month: Australia, Canada, France, Germany, Italy, Japan, Spain, Switzerland and the UK. As
noted by iLounge
, Apple is also rolling out its
iBooks
iPad application and associated iBookstore in many of these countries at launch.
Apple's country-specific press releases for Australia, Canada, Italy, Japan, Spain, and the UK all indicate availability of the iBooks app and the iBookstore on May 28th. Apple has yet to post press releases for France, Germany, and Switzerland, however, and thus iBooks availability for those countries has not yet been confirmed.
The iBookstore was announced as a U.S.-only feature during the iPad's introduction in late January, although evidence soon surfaced that Apple was making plans to extend it internationally. Apple also announced last month that it will be bringing iBooks and the iBookstore to the iPhone and iPod touch with iPhone OS 4 later this year.
Update: Apple has now posted its French press release, which confirms that iBooks and the iBookstore will be appearing there as well.