Apple Announces International iPad Availability for May 28th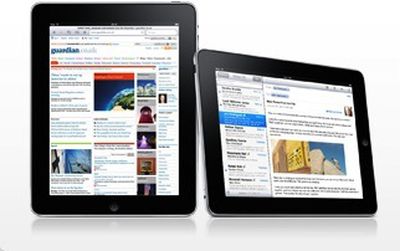 Apple today
announced
that it will begin taking pre-orders for all iPad models in nine new countries on Monday, May 10th. The devices will launch on Friday, May 28th.
Apple today announced that iPad will be available in Australia, Canada, France, Germany, Italy, Japan, Spain, Switzerland and the UK on Friday, May 28. Customers can pre-order all iPad models from Apple's online store in all nine countries beginning on Monday, May 10. In the US, Apple has already sold over one million iPads and customers have downloaded over 12 million apps from the App Store, as well as over 1.5 million ebooks from the new iBookstore.
Customers should check their country's Apple Store for pricing information, but as an example, the UK is seeing Wi-Fi iPad price points of 429/499/599 including VAT, with 3G-capable models carrying a 100 premium.
Apple also announced that the next round of international releases will occur in an additional nine countries in July: Austria, Belgium, Hong Kong, Ireland, Luxembourg, Mexico, Netherlands, New Zealand and Singapore. Pricing and pre-order details will be announced at a later date.