Steve Jobs Promises Full HTML5 Support for Safari 'Soon'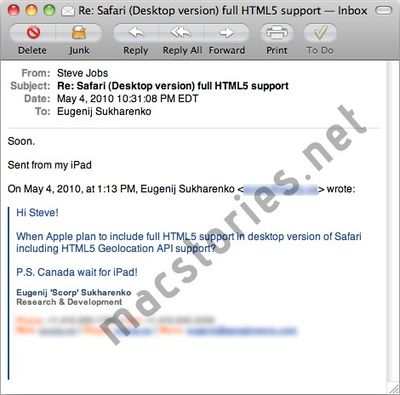 MacStories reports
on a new email response to a customer from Apple CEO Steve Jobs, this time promising that full support for HTML5 is coming "soon" to the company's Safari browser. HTML5 has been a popular topic recently, given Jobs' continued
support
of the next-generation Web standard as a key component of future technologies that he believes will leave Adobe's Flash Player in the past.
But as you probably know, Apple doesn't actually fully support HTML5 in its flagship browser, the desktop version of Safari. Indeed, Safari for Mac (and Windows) doesn't have official and full support for many HTML5 specs like Geolocation API, Drag and Drop, Form Features and Inline SVG but according to this new email from Steve we received, all this stuff is coming.
Given that Google has just introduced several of these HTML5 features in its new Google Chrome beta version, it appears that Apple will likely need to move forward relatively rapidly in order to demonstrate its commitment to deploying the tools necessary for HTML5 in Safari to reach the potential espoused by Jobs. "Full" HTML5 adoption may be a bit of a moving target for Apple, however, as the standard has not yet been officially formalized.