Android U.S. Ad Request Market Share Surges Past iPhone, iPhone and iPod Touch Device Mix Detailed
Mobile advertising firm AdMob today released its March 2010 Mobile Metrics Report, offering a look at trends in the devices and operating systems accessing its extensive ad network. Among the interesting observations in this month's report is evidence of continued growth and diversification of the Android platform. In fact, Android's growth in the U.S. has sent the platform's share of ad request in the U.S. past that of the iPhone by a 46%-39% margin.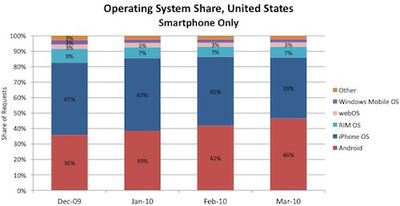 On a worldwide basis, the iPhone continues to outpace Android with a 46% share of the ad request market, compared to only 25% for Android. It is also important to note that this specific metric includes only smart phones, and thus does not include ads served to the iPod touch. When looking at all devices capable of accessing AdMob's ad network, the iPhone and iPod touch together grab 38% of the ad request market, more than double that of the nearest competitor on a manufacturing basis, Motorola.

Other interesting data coming out of AdMob's report includes a survey of the various generations of iPhone OS devices accessing its network. The report notes that the iPhone 3GS holds the largest share of iPhone OS devices at 39%, followed by the second-generation iPod touch at 25%. Apple's first-generation devices continue to hang around, however, with the original iPhone and iPod touch each accounting for 2% of the 6.1 billion iPhone OS ad requests received by AdMob in March.