According to the Chitika Labs iPad tracker, over one million iPad devices are now estimated to be in use on the Internet, suggesting that Apple may have surpassed a major milestone less than a month after the device's launch and before 3G-capable models even go on sale later this week.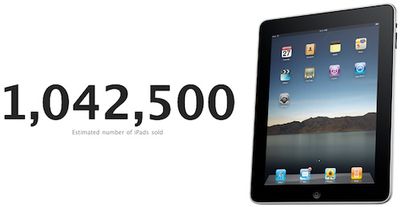 Chitika's iPad tracker gained some
fame
in the days after the iPad launch as it tried to estimate sales based on devices it was seeing appear on its ad network. Unfortunately, the tracker's early calculations proved to be too optimistic, and the number crunchers there have consequently
revised their methodology
several times over the past few weeks in order to improve the accuracy of their estimates. So while the fact that there may still be a significant amount of error in Chitika's numbers leads us to express caution about believing these numbers completely, it appears that Apple may be at least in the neighborhood of one million iPads sold.