iPad Sales Estimated to Have Already Surpassed 500,000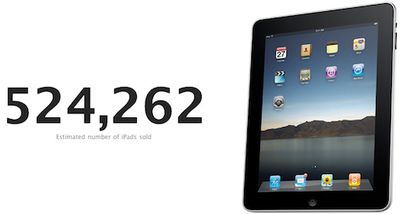 Advertising firm Chitika earlier this week rolled out a
running tally
calculating the number of iPads accessing the Internet via the device's Safari browser based on unique hits to its network of advertisements. According to current tallies, over 500,000 iPads have now been sold.
In a blog post, Chitika researcher Dan Ruby notes that the company's numbers have been registering significantly lower than official and estimated sales numbers, a phenomenon Ruby has attributed to some users not accessing the Internet. For example, by midday Monday, Chitika had registered nearly 270,000 iPads on its network, while Apple had already announced "over 300,000" iPads sold on Saturday with more sales obviously rolling in Sunday and early Monday. We've even heard that Apple may have sold over 750,000 iPads already.
We've also learned that the WiFi iPad may not be seen as primarily an Internet surfing device. With estimates of over 300,000 iPads sold on release day and perhaps as many as 700,000 sold over the weekend, that only around 40% are showing up on the Internet may imply that people are buying the iPad for the apps, and spending most of their browsing time in the App Store.
While Chitika's methods may offer only a crude approximation of iPad sales, they do provide an interesting glimpse into the device's market growth. Beyond overall sales numbers, the report also provides data on new iPads appearing each day and breaks down sales and percentages by state.