Weekend Notes: Woz and Apple Firing, iPads in Israel, No Mac App Store, German Airline Offer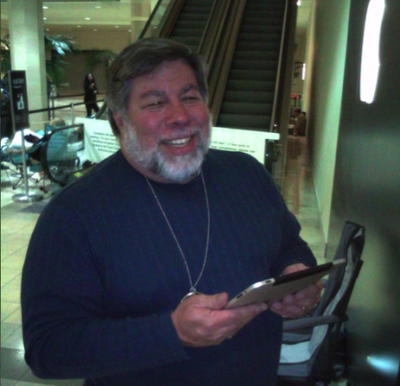 A few odds and ends of interest from the weekend Apple news cycle:
- Steve Wozniak reports that he was shown a 3G iPad by an Apple employee the morning of the Wi-Fi launch, and that Apple employee was subsequently fired.
I can tell you that the test engineer who showed me an iPad after midnight, for 2 minutes, during the iPad launch was indeed fired. I opted to spend 2 minutes with Numbers on this iPad, trying some stunts I'd seen on Apple's website demo video. I was not told that it was a 3G model and I had no way to know that. I was told that this engineer had to wait until midnight to show it outside of Apple's secure area. And I'm an Apple employee who he was showing it to. My guess is that he was allowed to take the iPad outside of the secure area but still not supposed to show it.
- Israel lifts ban on iPad imports. iPads were temporarily banned from being imported after it was claimed that they did not follow normal wireless standards:
The tests proved the device identifies the Wi-fi access point in its surroundings and adjusts itself automatically, enabling the iPad to be operated without interfering with other wireless devices, the ministry said.
- Steve Jobs reassures one customer in an email that there will be no "Mac App Store" that mirrors the iTunes App Store. There had been some wild rumors that Apple might be considering an approval-required Mac App Store for future versions of Mac OS X, but this has been denied.
- German Airline Lufthansa has offered the Apple employee that lost the prototype iPhone a free trip to Munich to visit their new Bavarian Beer Garden Business Lounge to "pick up where you left off". The next generation iPhone was lost at Gourmet Haus Staudt, a German bar in Redwood City, CA.