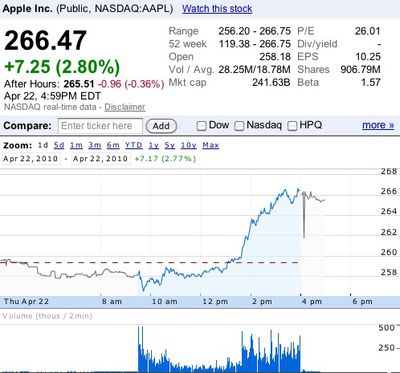 MarketWatch reports
that Apple today passed Microsoft for second place in weighting on the S&P 500 index of large U.S.-traded stocks.
Apple's float-adjusted market cap reached $241.5 billion, surpassing Microsoft Corp.'s index market value of $239.5 billion, said Standard & Poor's. Exxon still remains in the top spot on the S&P 500 with a market cap of more than $300 billion, said S&P.
The float-adjusted market capitalization metric used for the S&P 500 should not be confused with the overall market capitalization more commonly cited by observers. The S&P 500 uses a weighting factor to account for only those shares that are publicly available for trading, and it is by this measure that Apple has now surpassed Microsoft.
By the traditional market cap metric, Apple still trailed Microsoft by nearly $35 billion at the close of regular trading today, although Microsoft has lost nearly $12 billion in market cap in after-hours trading following the release of its quarterly earnings report.