Apple to Release Q2 2010 Financial Results on April 20th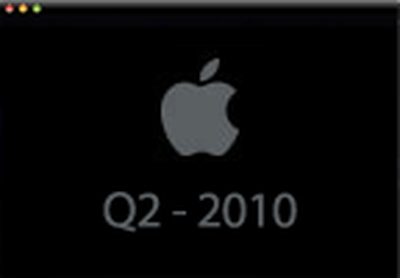 Apple today issued a media alert announcing details for the April 20th release of its financial results for the second fiscal quarter and first calendar quarter of 2010. The results will be released after the close of trading on Tuesday at approximately 4:30 PM Eastern / 1:30 PM Pacific. Apple's conference call discussing the results will follow at 2:00 PM Pacific and will be available via a live audio webcast. MacRumors will provide running coverage of the conference call highlights.
Apple offered no major product releases during the quarter, as most of the company's attention was focused on the iPad. The tablet device was introduced in late January, but did not launch until April 3rd, just after the end of the quarter. And even so, the launch was limited to Wi-Fi models in the United States. Availability of 3G-capable models in the United States is expected later this month, while Apple this week announced that availability of all models in its initial set of international markets has been delayed until late May due to high demand in the U.S.
For the quarter, analysts are predicting net earnings of $2.43 per share on revenue of $12.03 billion, above Apple's guidance of $2.06-$2.18 profit on $11.0-$11.4 billion of revenue. Apple's year-ago results for the second fiscal quarter of 2009 initially included net earnings of $1.33 per share on revenue of $8.16 billion. Those calculations were based, however, on earlier accounting methods that utilized "subscription accounting" for iPhone and Apple TV revenue. Apple adopted revised accounting standards at the beginning of fiscal 2010, and after retrospective application (PDF) of the new standards, the year-ago quarter yielded net earnings of $1.79 per share on revenue of $9.08 billion.