Apple iPad is (Almost) Here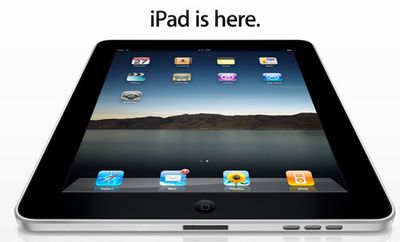 Apple has
updated
their website with a large banner declaring "iPad is Here". Apple has posted
hands on videos
with several of the launch applications including
The Elements
,
Marvel Comics
,
The Wall Street Journal
,
Epicurious
,
At Bat 2010
and several more.
Today is iPad launch day. MacRumors forum readers awaiting their UPS shipments for the iPads are following this thread as they await delivery, while those actually going to a local retail store are meeting up with others.
We'll have coverage of the iPad launch, impressions and more as the day progresses.
While you Wait - Here are some Free apps to download to test out your new iPad
- Adobe Ideas for iPad - Adobe Ideas is your digital sketchbook, letting you capture and explore ideas anywhere you go.
- iBooks - iBooks is an amazing way to download and read books, designed exclusively for iPad.
- USA Today for iPad - The latest news stories, scores, weather and photos you've come to expect from USA TODAY are now available in a beautiful new way, on your iPad.
- ABC Player - Watch your most loved ABC shows for free on the ABC.com Full Episode Player for the iPad!
- AIM for iPad - AIM is redefining social networking add a location to your status, post to your favorite social networks or chat directly with your Facebook friends.
- NYT Editors' Choice - Enjoy the award-winning journalism of The New York Times with the unique functionality and navigation of the iPad.
- Twitterific for iPad - Twitterrific is the friendly, award-winning Twitter client that's beautiful to look at, easy to use and full of elegant features.
- Harbor Master HD - Enjoy the best selling game Harbor Master on the beautiful big screen of the iPad.
- Smiles HD - SMILES HD is all new and redesigned for the iPad. It's based on SMILES, the award winning strategic puzzle and arcade matching-game.
- Labyrinth 2 HD Lite - The sequel to the original labyrinth game is available for your iPad, now with new levels fitted perfectly for the bigger screen.