iPod 'Godfather' Tony Fadell Steps Down as Apple Advisor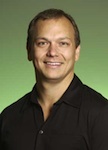 The New York Times reports
that Tony Fadell, who has variously been known as the father, grandfather, and godfather of the iPod, has severed his final ties with Apple, stepping down from his position as special advisor to CEO Steve Jobs. Fadell had previously served as senior vice president of the iPod division, but
resigned
in November 2008 for personal reasons. He did, however, remain on Apple's payroll in an advisory capacity.
Though Mr. Jobs gets the lion's share of credit for innovation at Apple, Mr. Fadell played a key role in the company's resurgence. He first envisioned a hard-drive-based digital music player in the 1990s and brought the idea to Seattle-based Real Networks, where he reportedly clashed with Real's chief executive, Rob Glaser, and left after six weeks.

Mr. Fadell then approached Apple in 2001, and history was made.
Upon stepping down from his executive role, Fadell was replaced by IBM chip designer Mark Papermaster. Papermaster's appointment was held up, however, by a lawsuit filed by IBM regarding a claimed violation of his employment contract by departing to work for a competitor. The situation was eventually resolved, and Papermaster
began work
in April 2009.
For his part, Fadell will reportedly be shifting focus to green technology, where he plans to advise companies and work with private investments.