App Store Now Available Through Facebook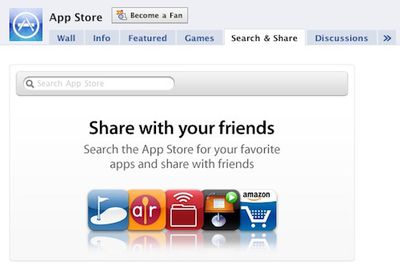 Mashable
yesterday
noted
that Apple has rolled out revamped
App Store pages in Facebook
offering full browsing and search access for the store.
In the Featured tab on the App Store's Facebook page, you can see top apps and view the sales charts for paid and free apps across different categories. This is the same information that you would get from iTunes or from the App Store application on your iPhone or iPod touch, but it's all in Facebook.
Clicking the "Get App" button links users directly to the iTunes Preview or iTunes page for the item, allowing for easy purchase and installation. The new layout also incorporates a "Share" function to allow users to post links to items on their walls. A separate "Search & Share" tab moves things beyond the top apps lists to allow for full searching of the App Store.
Vitrue, the company behind the project, notes that the App Store pages are built on the same technology that powers the existing iTunes Facebook pages and will be expanded in the future to offer additional searching and sharing tools.