Brightcove (and therefore The New York Times and Time, Inc) Announces Support for HTML5 Video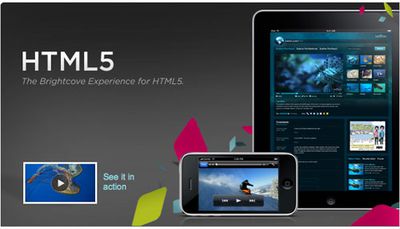 Online video provider Brightcove has announced that they will be officially supporting HTML5 video for their customers. Brightcove is the video platform for more than 1000 customers including high profile websites such as
The New York Times
and
Time, Inc
.
The move comes a week before the launch of the iPad which does not support Flash video which has traditionally been the vehicle for online video delivery.
"Our customers want to be able to deliver their video content to every screen without sacrificing the quality, interactivity and monetization capabilities they have come to expect from the Brightcove platform," said Jeremy Allaire, Brightcove chairman and chief executive officer. "The Brightcove Experience for HTML5 fills the gap between the current playback capabilities of the emerging standard and what our customers need to operate successful online video businesses."
The new HTML5 support comes at no additional cost to existing Brightcove customers. A list of existing customers is available on Brightcove's website and includes a large number of magazine publishers, newspaper publishers and broadcasters. It seems HTML5 has to be purposefully implemented by the customer sites as not all the same features have been deployed to Brightcove's HTML5 implementation. However, the company has a roadmap to deploy all the same features over time.
The New York Times and Time, Inc have been confirmed as launch partners taking advantage of HTML5 video and will be iPad-ready on launch day.