iPad App Store Reveals Launch Apps, Top Seller Lists, App Details
Apple has begun putting together the iPad-specific App Store in anticipation of the upcoming iPad launch. iPad-only Apps have begun to be approved and organized. MacRumors has managed to access the iPad's best seller lists which reveal several of the iPad App Store launch titles. The lists show several dozen applications with release dates as far back as March 19th.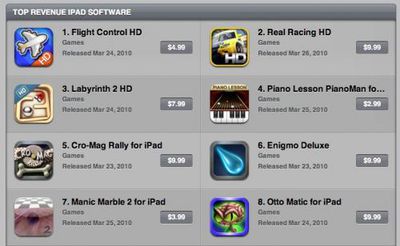 The fact that the iPad-specific applications are ranked suggests that the applications are being downloaded/purchased at least on a limited basis, despite the lack of iPad availability for the general public. A
report
yesterday indicated that a number of these iPad-specific applications had temporarily appeared in Apple's web-based 'iTunes Preview' App Store listing.
Early app prices seem to range from Free to $9.99 for the most part, with a few higher priced examples such as OmniGraphSketcher ($14.99) shown here:

It's important to note that all prices and descriptions may not be final as developers can make adjustments to these items at any time. Wi-Fi models of Apple's iPad are scheduled to launch in the U.S. on April 3rd, with iPad-specific applications and services to go live on the same day.