'iTunes Preview' Listings Suggest Apple is Already Approving iPad Applications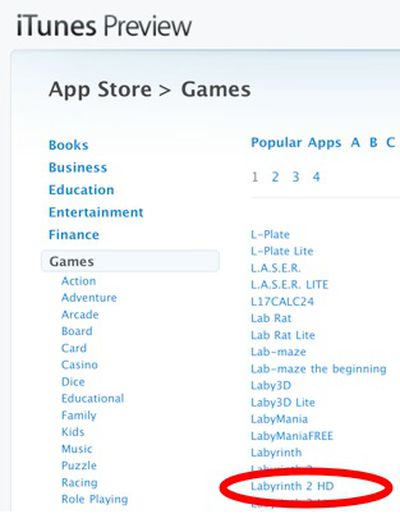 PadGadget has discovered
that several new App Store titles apparently representing iPad-specific applications have appeared in Apple's web-based
iTunes Preview
listings. The new titles are frequently versions of existing App Store titles but carrying "XL" or "HD" designations, presumably to designate them as for the iPad, which offers a significantly higher resolution display than the iPhone and iPod touch.
We did a quick scan and were able to find several titles clearly marked as "HD", a common label developers are now using to indicate an iPad specific version of their app. HD is not a universal title for iPad apps, some developers are instead choosing "XL" to denote their iPad version or simply creating a universal build so that both the iPhone and iPad versions are contained in a single app. There are probably many more titles in the database that have been approved by Apple for the iPad that we haven't yet stumbled upon.
Attempting to click through to the individual titles results in dialog boxes popping up to state that the items are currently not available. The titles are also not visible within the iTunes-based version of the iTunes Store.
The fact that the "HD" and "XL" titles are appearing in iTunes Preview suggests that they have already been reviewed and approved for sale by Apple, although it is obviously planning to wait until the iPad is available to customers to deploy them for sale. As a result, their appearance in the company's iTunes Preview listings is likely the result of an oversight on Apple's part.