Apple Obtains 'iPad' U.S. Trademark From Fujitsu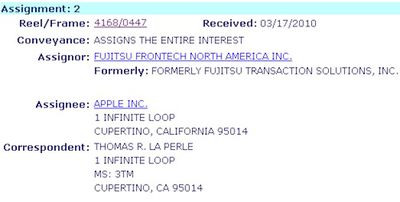 Patent Authority reports
(
via Silicon Alley Insider
) that Apple has obtained the rights to the "iPad" trademark in the United States, settling what some observers had thought could be a
contentious dispute
over the name.
Apple now owns the iPad trademark. The trademark (Serial No. 76497338) was filed by Fujitsu in March of 2003 for their iPad wireless handheld computing device used by retailers. Records at the U.S. Patent and Trademark office show that the trademark was assigned to Apple on March 17.
International trademark filings made by an Apple shell company just before the iPad's introduction in January hinted at the tablet's name, although initial reports suggested that Apple had avoided addressing the issue in the United States, where Fujitsu had filed for a trademark on the "iPad" name in a similar field.
Evidence quickly appeared, however, showing that Apple had sought multiple extensions to required opposition periods for Fujitsu's application, and that Apple did apply for a U.S. trademark using a shell company separate from the one used in the international filings.
Apple's use of the name "iPhone" similarly stepped on the toes of another electronics company upon its introduction in January 2007, but Apple and Cisco were able to reach an agreement that permitted both companies to use the trademark.