Apple Advertising Snafu in Australia and New Zealand Leads to Confusion Over Possible Price Increases, Updated Models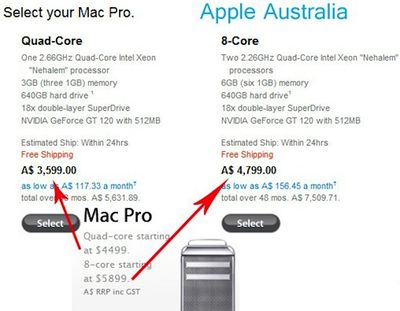 Engadget
today
pointed
to a series of Apple ads appearing on Australian site
PC Authority
appearing to show significantly increased prices for Apple's MacBook Pro, MacBook Air, and Mac Pro lines, suggesting that new, more expensive models may be imminent. An update to the story added evidence of inconsistencies in pricing on Apple's own Australian and New Zealand sites.
The real story appears to be, however, that Apple has mistakenly included old pricing on its site and in its advertising in these countries. Last October, alongside a slew of product updates including the iMac, Apple also reduced prices on its MacBook Pro and MacBook Air lines in some countries. For example, in Australia, Apple dropped the entry-level MacBook Pro to A$1599 from A$1899 and the entry-level MacBook Air from A$2399 to A$1999. These are same price points appearing in conflict on Apple's site and ads at this time, strongly suggesting that the issue is simply a mistaken use of outdated graphics with incorrect prices.
Apple similarly introduced the Mac Pro in Australia in March 2009 with an entry-level price point of A$4499, as shown in the advertising images currently being seen on Apple's site and elsewhere. The prices were, however, dropped to begin at A$3599, apparently in December when Apple slightly tweaked build-to-order options on the Mac Pro.
We still continue to expect updates to Apple's MacBook Pro, MacBook Air, and Mac Pro models in the relatively near future, and while the new inconsistencies on Apple's site and advertising banners may be an error made as the company prepares some tweaks for an imminent release, the new images appear to reflect outdated rather than upcoming pricing.