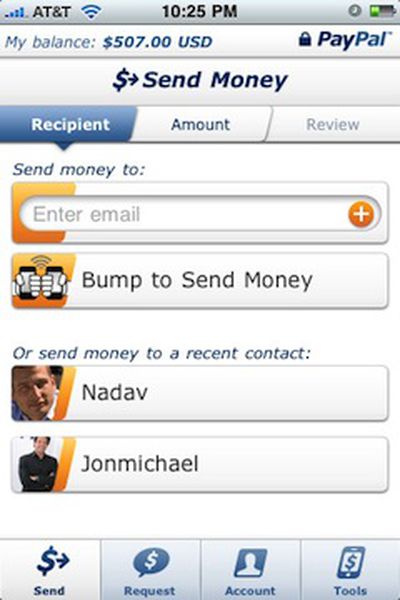 PayPal yesterday launched a major upgrade to its free
iPhone application
, offering a number of new features including the ability to initiate money transfers between users' accounts by "bumping" iPhones.
+ Brand new look and feel!
+ Bump: Easily start by bumping iPhones.
+ Withdraw funds from your PayPal balance.
+ Request Money: Get paid faster, it's the easy way to ask for the money you are owed.
+ Split the Check: Instantly split the bill, calculate tip, and request everyone's share.
+ Collect Money: Ask for contributions from a group for an event, gift, or cause.
+ Set Reminders: Never miss rent or a bill.
+ Refer the app to a friend
The PayPal application's "bump" feature utilizes the Bump API from Bump Technologies, the company that gained significant publicity when its Bump application for swapping photos and contacts between iPhones was featured in one of Apple's iPhone ads.