iPad Opening Weekend Pre-Orders Pegged at Roughly 150,000 Units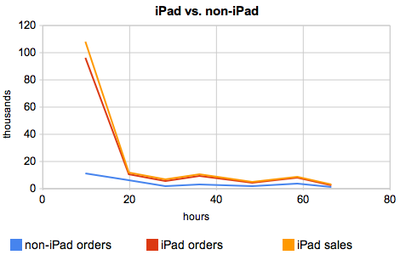 Fortune continues following
an
organized effort
being made to track iPad pre-orders in the U.S., noting that demand for Apple's new tablet device has significantly tapered off since Friday's pre-order launch and settled in the neighborhood of 150,000 as a rough estimate for the first three days of availability.
According to Daniel Tello, the Venezuelan blogger-analyst who has been tracking order numbers submitted by volunteers at Investor Village's AAPL Sanity board, orders on Saturday and Sunday slowed to an estimated 1,000 per hour.
Based on his analysis as the initial push from the launch day wears off, Tello predicts that Apple may see about 500,000 pre-orders and reservations by the time the iPad officially becomes available on April 3rd.
"My best guess, although very tentative given the early stage and few data we have so far, would be that they hit the 1 million unit milestone by the second week after it ships," he told Fortune. "But this is a very speculative guesstimate based on just a weekend of pre-orders."
Tello's formula for calculating iPad sales comes from a sampling of Order ID numbers from Apple customers adjusted for expected sales of non-iPad products and a weighting based on average number of iPads expected per order (currently 1.125).