Apple's Rivalry With Google Gets Personal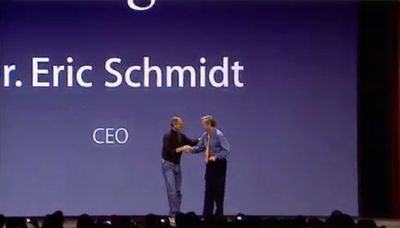 The New York Times
walks through the timeline of the current Google and Apple rivalry and reveals that the competition has become quite personal.
Yet according to interviews with two dozen industry watchers, Silicon Valley investors and current and former employees at both companies -- most of whom requested anonymity to protect their jobs or business relationships -- the clash between Mr. Schmidt and Mr. Jobs offers an unusually vivid display of enmity and ambition.
The increasing tensions between the two companies have already been revealed in comments made by Steve Jobs during the town meeting, and most recently in a patent lawsuit filed against Google-partner HTC. Apple has reportedly became concerned about Android, and made good on a promise to Google that if they introduced multi-touch into Android, they would sue. Google provided a software update adding multi-touch to the Nexus One in February.
The two companies have also sparred over acquiring the same companies. In fact, Google reportedly swooped in to acquire AdMob after Apple had expressed significant interest. Google paid a 25% premium over Apple's initial offer primarily to keep AdMob out of Apple's hands.
The increasing competition has even resulted in Apple considering replacing Google's search engine with Microsoft's Bing as the default on the iPhone.