Apple Pressuring Music Labels Over Participation in Amazon's 'Daily Deal' Program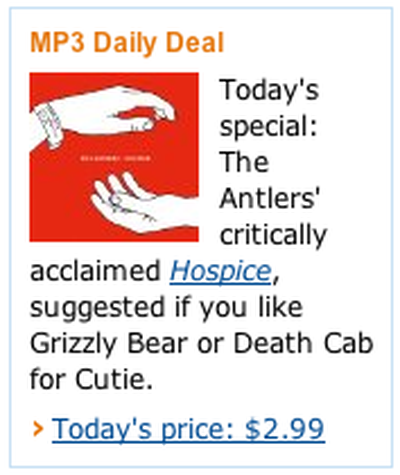 Billboard reports that Apple has been pressuring music labels over their participation in Amazon's "Daily Deal" program that has allowed them increased exposure and sale pricing on Amazon's MP3 download store. Apple's primary objection has been Amazon's push for one-day exclusives on new releases offered through the program, an offering that has placed Apple's iTunes Store at a disadvantage for early sales of some major releases.
Sources say that iTunes representatives have been urging labels to rethink their participation in the Amazon promotion and that they have backed up those warnings by withdrawing marketing support for certain releases featured as Daily Deals.
The report notes that the impetus for Apple's complaints came from the release of Mariah Carey's "Memoirs of an Imperfect Angel", released one day early by Amazon and priced at $5.99 as part of the Daily Deal program last September. For its part, Amazon has reportedly backtracked on the program by allowing labels to participate without requiring the one-day exclusive and thereby hopefully avoiding the wrath of Apple. Apple has apparently continued to complain, however, about the marketing agreements that are part of the Daily Deal program.
"They are . . . diverting their energy from 'let's make this machine better' to 'let's protect what we got,' " says a major-label executive who has been following the situation.
According to sources in the industry, the relationship between the labels, Apple, and Amazon remains "fluid", with some labels refusing to participate in the Daily Deal program while others have opted to take advantage of the publicity available through Amazon for releases for which Apple has not offered prominent publicity in the iTunes Store.