Apple's A4 Processor is Based on Cortex A8, Not A9?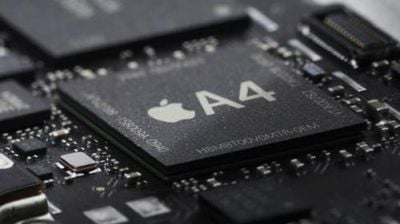 Ars Technica reports
on Apple's new A4 chip which was introduced alongside the iPad in January. Apple has released few details about their custom chip design, though many expected it to have adopted the latest Cortex A9 multi-core design.
Ars Technica's Jon Stokes counters this belief with multiple sources who indicate the new processor is actually based on the Cortex A8 -- the same design as the current iPhone and iPod Touch.
As I watched the videos and read the reports of the iPad in action at the launch event, I was thoroughly convinced that the device was built on the out-of-order Cortex A9, possibly even a dual-core version. But it turns out that the the A4 is a 1GHz custom SoC with a single Cortex A8 core and a PowerVR SGX GPU. The fact that A4 uses a single A8 core hasn't been made public, but I've heard from multiple sources who are certain for different reasons that this is indeed the case. (I wish I could be more specific, but I can't.)
We've heard similar whispers which make us believe this report is true. The iPad A4, of course, runs at a higher clock speed (1GHz) than the processors found in the iPhone (600Mhz) and iPod Touch. Stokes goes on to speculate that the PA Semi team could have added their expertise in lower power consumption, and the A4 could find its way in a future iPhone release.