Gartner: iPhone Sales Double in 2009 as Apple Claims Third Place in Smartphone Sales
Earlier this month, research firm IDC released sales figures for 2009 showing Apple holding 14.4% of the smartphone market for the year on nearly 82% sales growth over 2008, with the company grabbing third place among smartphone vendors behind Nokia and Research in Motion.
Gartner today released similar results taking a slightly different look at its data by opting to rank smartphone sales by operating system rather than handset manufacturer. Gartner's data for Apple is consistent with IDC's for 2009, showing the iPhone OS holding third place with a 14.4% share, but Gartner's data more clearly shows the significant-but-slipping lead held by Symbian OS, as well as the iPhone's surge past a slumping Windows Mobile. The data also reveals tremendous growth from Android in 2009, surging more than tenfold in unit sales to grab nearly 4% of the smartphone market.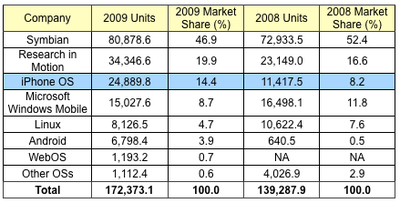 Worldwide Smartphone Sales in 2009 in Thousands of Units (Source: Gartner)
Gartner also presented data for worldwide sales of all mobile phones for 2009, which came in at over 1.2 billion, down slightly from 2008. But with smartphone sales accounting for only 14% of the total market and the iPhone holding only 14% of that smaller market, Apple was unable to break into the top five total mobile phone vendors.