Apple's iPad NYTimes Promo Video Shows Flash Again [Updated]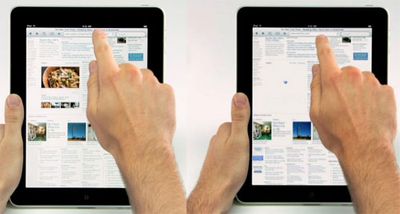 Flash content shown (left), Broken plug-in shown (right)
We're planning on writing this one off as a web-blunder, but one reader points out that Apple seems to have reverted their iPad promotional video back to one which renders the
NYTimes
Flash content correctly.
The iPad promotional video caused a lot of buzz when it was discovered that it depicted properly working Flash content on NYTimes' website. As it turns out, the videos are essentially mock-ups and were never purposefully intended to depict the iPad running Flash. Apple was even quick to post a new version of the video properly showing a broken Flash plug-in in the place of the video content. The incident even generated an FTC complaint against Apple for false advertising. So, why would Apple change it back now?
The easiest explanation is that either Apple or Akamai made a mistake this weekend and republished the original video. Meanwhile, an absurd and essentially impossible alternative given Steve Jobs' comments about Flash is that the iPad will support Flash. If this was a purposeful switch back, perhaps the NYTimes may plan on offering HTML5 content (which does play on the iPad) for their video content, much like YouTube and Vimeo have started doing.
Chances are, however, the video will again be corrected in the near future.
Update: Apple has changed it back to showing a broken Flash icon.