iPad Promotional Video and Images Show Properly-Displayed Flash Content
One of the major complaints so far about Apple's new iPad tablet device has been a lack of support for Flash content, a limitation also placed on the iPhone. At several points during Apple CEO Steve Jobs' demonstration of the iPad at Wednesday's media event, the device displayed a "broken plug-in" icon on Web pages such as The New York Times where Flash elements were included on the page.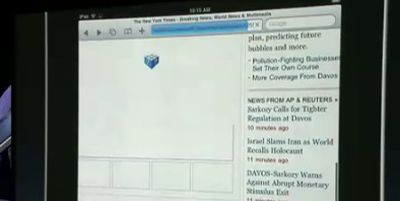 Screenshot from iPad media event presentation
9 to 5 Mac noticed
that demonstrations of Web browsing in Apple's iPad promotional video reveal properly loading Flash content on similar Web pages, suggesting either that the iPad device used in the video supports Flash or that Apple has manipulated the promotional video in order to hide the fact that the iPad does not support Flash.

iPad promotional video showing Flash content (9 to 5 Mac)
AppleInsider followed up
with a similar analysis also showing a promotional image of the iPad on Apple's site displaying Flash content from
The New York Times
. The newspaper's
The 31 Places to Go in 2010
feature includes a Flash-based slideshow that displays properly on a Mac and in the iPad promotional rendering, but not on an iPhone, which lacks Flash capabilities as the iPad did during Wednesday's presentation and in the media hands-on that followed.

Portion of Apple iPad promotional image showing Flash content