Mac Pro Audio Update Seen as Fixing Performance Issues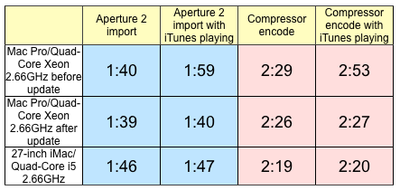 Effect of Mac Pro Audio Update 1.0 on Aperture and Compressor tasks
(Times in minutes:seconds)
With
last week's release
of a software update addressing
heat and performance issues
experienced by users of Apple's Nehalem Mac Pro models while playing audio, many users have reported significant improvements brought by the software fix.
Macworld today provides some numbers to back up those claims, showing a distinct improvement in performance and heat after applying the update.
Before the update, running an Aperture 2 import test took 19 percent longer to complete when iTunes was playing in the background than when Aperture ran alone. After installing the update, we saw just a one-second time difference.
Similarly, a Compressor encode test took 16 percent longer when we ran that program at the same we were running iTunes before we installed the firmware update. Afterward, the gap also narrowed to one second after the update.
In addition to the near-elimination of performance hits caused by playing audio in iTunes, the update also appears to have addressed heat and power issues, with average CPU temperatures while playing audio dropping from 120 degrees to 90 degrees and CPU and power supply draws also seeing significant decreases.
The report notes that the software update released by Apple last week is limited to machines running Mac OS X Snow Leopard, while users of Apple's Mac OS X Leopard had also reported similar issues when playing audio. It is unclear whether Apple is planning a similar software patch for Leopard-based systems.