27-Inch iMac Shipping Times Continue to Improve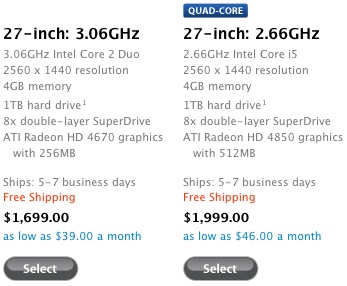 Several
MacRumors
readers have reported that Apple's shipping lead times for its 27-inch iMac models in its online stores have improved today, with the U.S. and Canada now seeing lead times of 5-7 business days instead of 2 weeks and European stores seeing improvement to 2 weeks from earlier 3-week estimates.
Apple has continued to face lengthy shipping times for its 27-inch iMac models, with the company
claiming
that the delays have stemmed from high demand. The company has also been struggling, however, with
several issues
related to the displays on the machines, including flickering and yellow tinting. The company has issued a pair of
firmware updates
to address the flickering issues for existing customers, while it apparently continues to investigate the tinting issues.