MWSF 2010 iPhone: FloTV, Square, iV Plus, Mobile Navigator
FloTV - Live Television on Your iPhone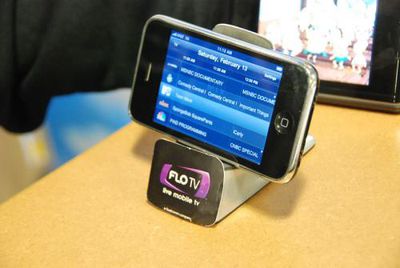 If you've been missing a way to watch live television on your iPhone, Mophie and FloTV have teamed up to provide just that solution in the next couple of months.
FloTV
is a new wireless TV service that has been put in place across the U.S. It provides
18 channels
of television service with
broad coverage
.
In order to achieve this on the iPhone, Mophie has integrated the FloTV chips into one of their iPhone battery packs (Juice Pack TV) (not pictured above). The FloTV application will be a free download from the App Store and will interface with the FloTV chips using Wi-Fi. The end result should be live TV viewing from your iPhone as well as additional battery power from the Juice Pack TV.
Square - Mobile Credit Card Processing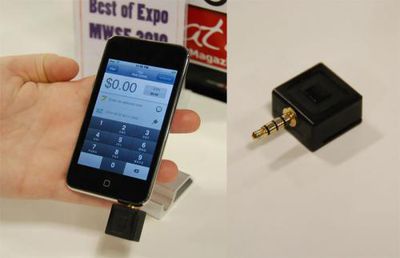 Square UP
was showing their new credit card processing solution for the iPhone. They are planning on offering a no-hassle way for individuals to start accepting credit card payments. Simply buy their $1 app from the App Store, sign up for service, and they will send you a small hardware dongle that will swipe credit cards (shown right). No individual merchant account is required as Square UP handles all the processing and payments and takes a 2.9% cut of all sales.
The Square service is currently in beta testing and should arrive later this year.
iV Plus - Universal Remote, Camera Flash and Battery Pack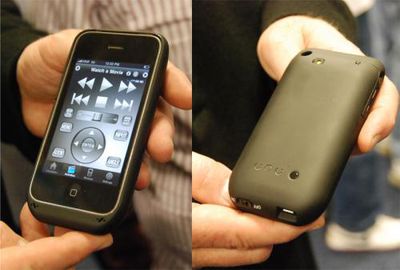 FastMac
showed of their latest creation at Macworld. The iV Plus is a combination case, IR Remote, Flash LED, and Battery Pack. The enclosure wraps around the iPhone like a case much like the other battery solutions available, but the inclusion of the IR port and Flash LED add a significant amount of functionality.
FastMac will also be providing free Universal Remote software to work in conjunction with the case. The software allows you to customize your remote settings and a more advanced paid version will include live TV guide with show searching support. Meanwhile, support for the Flash LED is also coming in the form of a free camera app that will snap a picture and also trigger the flash.
The iV Plus is expected to ship in Q2 for $130.
Navigon MobileNavigator 1.5 - Integration with Other Apps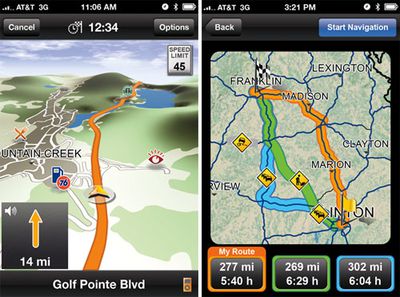 Panorama View (left), MyRoutes (right)
Navigon was out showing off its upcoming 1.5 update to its
MobileNavigator
turn-by-turn guidance software. The update is due in March and brings several new features:
- Panorama View 3D: NASA sourced elevation data to provide 3D views of the landscape
- MyRoutes: Gives you up to 3 alternative routes with different route recommendations based on current traffic conditions as well as your personal driving profile.
- Facebook and Twitter Integration: broadcast where you are and where you're going.
Also announced was a new OpenAPI "Appinteract" for Navigon's software that will allow other App Store developers to pass destinations directly to MobileNavigator. For example, if a restaurant is found within iPhone App Where To?, a single tap can launch and initiate routing within MobileNavigator. The actual data is simply passed as a specialized URL, so the implementation should be simple for developers, but is much more convenient to the end user. The 1.5 update to MobileNavigator should arrive in March.