Average iPhone Consumer Data Usage Pegged at Five Times That of BlackBerry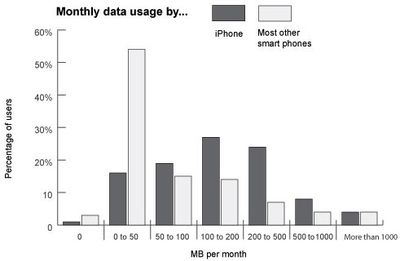 Consumer Reports
announced
this week the results of a study it commissioned assessing the monthly data usage for customers of Apple's iPhone and other smartphones. The data, obtained from over 1,000 consumer accounts linked to online bill analysis firm
Validas
, reveals that iPhone users consume an average of 273 MB of data per month, five times that of BlackBerry users and nearly twice that of users of other smartphones.
On average, iPhone users consume 273 MBs of data per month. That compares with 54 MBs for consumer users of Blackberrys and 150 MBs for consumers who use other brands of smart phones, the Validas study found.
The disparity in data usage is particularly evident at low levels, where 80% of BlackBerry and 54% of "other" smartphone users consume less than 50 MB of data per month while only less than 20% of iPhone users maintain such low usage.
Consumer Reports points to the data consumption of iPhone users and the strain they have placed on AT&T's network in the United States as a possible key source of discontent that led to the carrier placing last in the magazine's recent overall and city-by-city ratings.