iPad Component Costs Estimated to Begin at $219.35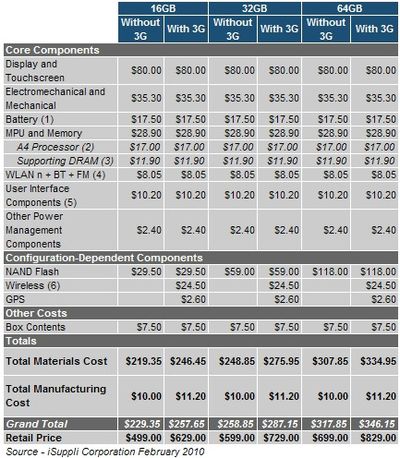 Bloomberg BusinessWeek reports
on new
estimates
from market research firm iSuppli detailing component costs for Apple's lowest-priced iPad at $219.35 plus an additional $10 in manufacturing costs, compared to a retail price of $499. While the component cost calculations do not include such expenses as research and development, software, marketing, distribution, and patent licensing, the tally still suggests that Apple is set to make a healthy profit on its new tablet device.
The most profitable of the six iPads is the 32-gigabyte version with 3G network access, Sideco says. Its combined materials and manufacturing cost of $287.15 amount to 39.4% of the retail price. The least profitable is the 16-gigabyte non-3G version, which sells for $499. Its combined costs amount to $229.35 or 46% of the retail price, leaving the slimmest potential profit margin of the six.
iPad models offering 3G wireless connectivity will carry a $130 price premium at retail over the corresponding Wi-Fi-only models, while iSuppli calculates that the additional cost to Apple is only approximately $27.10 ($24.50 for 3G components and $2.60 for GPS). Other items of interest included in the estimates are the 9.7-inch multi-touch display at $80.00 and the custom Apple A4 system-on-a-chip serving as the brains of the device at $17.00.
A report earlier this week claimed that Apple executives have left the door open to iPad price cuts if consumer demand fails to meet expectations, and iSuppli's estimates appear to suggest that the company may have sufficient profit margin on the device to lower retail prices if necessary.